Description
---
FRESH DRAGON FRUIT PITAHAYA
Dragon Fruit a pitaya /pᵻˈtaɪ.ə/ or pitahaya /ˌpɪtəˈhaɪ.ə/ is the fruit of several cactus species indigenous to the Americas. "Pitaya" usually refers to the fruit of the genus Stenocereus, while "pitahaya" or "dragon fruits" refers to fruit … Hylocereus costaricensis (Pitaya Roja or red-fleshed pitaya, also known as Hylocereus polyrhizus). These fruits are commonly known in English as "dragon fruit", reflecting its vernacular Asian names. These include the Indonesian buah naga (lit. dragon fruit), the Khmer sror kaa neak (dragon scale), the Thai kaeo mangkon (dragon crystal), the Lao maak manggohn, the Vietnamese thanh long (green dragon), and the Chinese huǒ lóng guǒ (fire dragon fruit) or lóng zhū guǒ (dragon pearl fruit). Other vernacular names are "strawberry pear" or "nanettika fruit".
The name 'pitahaya' or 'pitaya' is, according to the Oxford English Dictionary, derived from the Spanish rendition of the Haitian.
10 Surprising Benefits Of Dragon Fruit You Never Knew
Dragon what? No, this is not a medieval-times myth where knights save princesses from fire-breathing dragons and win the coveted dragon fruit from a magical tree. That said, real dragon fruit does contain some pretty magical benefits that can make you feel like a beautiful princess or a knight in shining armor.
In tropical and subtropical regions in South America and Asia, the dragon fruit flourishes and grows in abundance. Appropriately named, the dragon fruit's outer skin is cactus-like, resembling that of the scales of a mythical dragon. Considered a cactus plant, its vibrant green, and reddish-pink hues indicate that the fruit is full of nutrients, while the creamy white flesh spotted with black seeds gives way to many rich and natural properties.
Also known as pitaya, these fun-looking fruits contain around 60 calories each and are rich in vitamin C, B1, B2 and B3, and minerals such as iron, calcium, and phosphorus. And that's not all. This is definitely one of the best "super fruits" out there.
Better Than Cheerios
Dragon fruit has an extremely low amount of cholesterol, which ultimately helps the body break down this fruit quickly, keeping you happy and healthy. It's the perfect fruit to maintain your weight and satisfy your sweet tooth.
Heart Healthy
Americans have increasing problems maintaining cardiovascular health. Fortunately, this fruit has an amazing superpower that helps decrease bad cholesterol levels and replenish good levels. Dragon fruit is an excellent source of monounsaturated fats, helping the heart stay in great condition.
Fill Up On Fiber
To clean up your digestive system, eat a dragon fruit. They have a high fiber content, which can assist with poor digestion and constipation. Eating the flesh and seeds, which contain good protein, will keep your body fortified and satisfied.
Active Antioxidants
To rid the body of free radicals and cancer-producing properties, you can eat foods that contain antioxidants. Believe it or not, dragon fruit is giving acai berries a run for their money.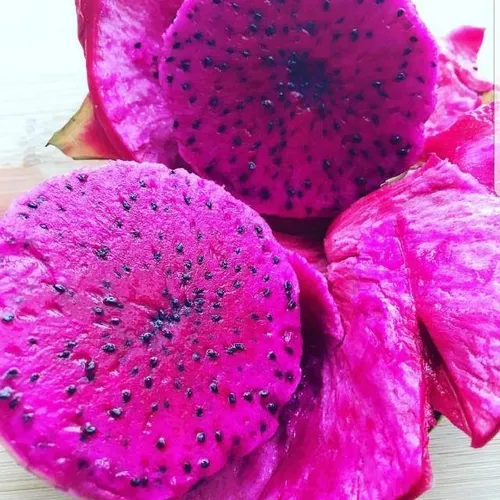 Fights Diabetes
The high amount of fiber in dragon fruit can ultimately help regulate diabetes, as it can stabilize blood sugar levels by suppressing sugar spikes. However, with any dietary changes or modifications, always consult your doctor to make sure this is a good food for you.
Reduces Signs of Aging
Eating a dragon fruit with its rich antioxidants can keep the skin tight and young. You can even make a face mask using the fruit combined with honey as a natural alternative to anti-aging masks.
Treating Colored Hair
Dragon fruit juice is an excellent agent for treating colored hair. By simply putting the juice or a conditioner containing dragon fruit on your scalp, you can protect your chemically treated or colored hair. This will keep the hair follicles open, allowing your hair to breathe and remain healthy and smooth.
Suppresses Arthritis
Arthritis directly affects the joints and causes severe irritation and immobility. Adding dragon fruit to your diet can help you fight these ailments. Dragon fruit's benefits for people suffering from arthritis are so great that it's commonly referred to as the "anti-inflammatory fruit."
Avoiding Acne
This treatment is not just for teenagers. Rich in vitamin C, this fruit becomes a great topical ointment. Turn a slice of dragon fruit into a paste and apply it to your reddened areas on your face or skin, then rinse with water. For best results, use twice daily.
Soothe Sunburned Skin
By combining dragon fruit with cucumber juice and honey, you can create a compound much like aloe that can soothe burned skin. Abundant in vitamin B3, dragon fruit can moisturize sunburned skin and release heat from the affected area.
Tree colors one name Pitahaya
Dragon Fruit Smoothie
---
Customers who bought this item also bought
---
Packing Details
Vacuum packing is a method of packaging that removes air from the package prior to sealing. Shrink film is sometimes used to have a tight fit to the contents. Vacuum packing reduces atmospheric oxygen, limiting the growth of aerobic bacteria or fungi, and preventing the evaporation of volatile components.
Unit Type:

P

iece

Carton Box

Package Weight:

4 lbs

Package Size:

13.11in x 12.67in x 3.93in
---
If you enjoy this article and which to share with your

Facebook, Twitter, Instagram, G+

and

Pinterest

friends please do so.
Important Information
Legal Disclaimer
Actual product packaging and materials may contain more and different information than what is shown on our website. We recommend that you do not rely solely on the information presented and that you always read labels, warnings, and directions before using or consuming a product. Please see our full disclaimer below.
The information provided for this product is for educational purposes only. This information has not been evaluated by the Food and Drug Administration and is not intended to diagnose, treat, cure, or prevent any disease.
We recommend that you consult with your physician or qualified healthcare practitioner before making any significant change in your diet.
---